"The world we live in is filled with a multitude of shapes, forms, and colors. I begin with nature and distill that original thought to its essence. I liberate the colors into broad areas to achieve a plastic contrast of shape, color and form."
Artist Bruce Gregory stands on scaffolding inside the United Nations General Assembly in New York. This photograph was taken in 1952 during painting of the F. Léger murals as construction was being completed at the UN complex.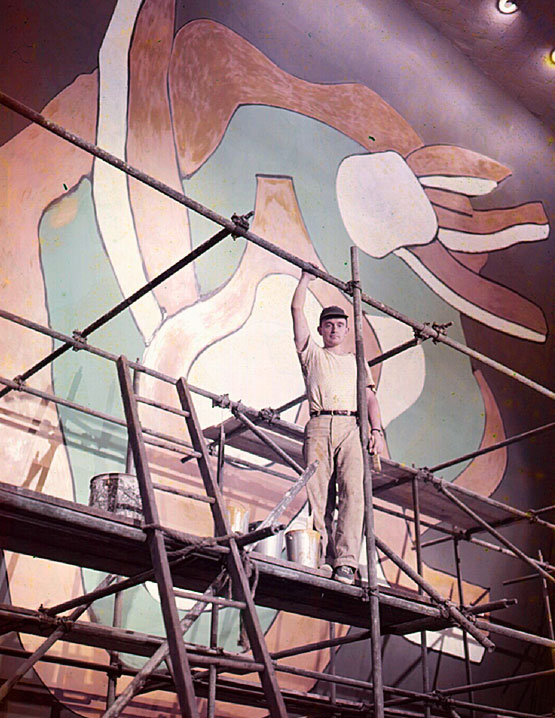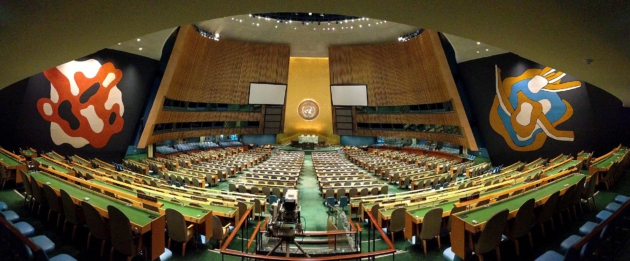 United Nations General Assembly
This is a view of the finished murals painted by Bruce Gregory in collaboration with Fernand Léger in the United Nations General Assembly. Recognized around the world, the two murals are the most famous artworks in the UN's collection.More About Bruce Gregory -
Bruce Gregory was a modern painter of nature, still life, and street scenes and was known for his mastery of color and his distinctive, bold and hard-shadowed painting style. A working artist and teacher throughout his life, he painted from his own observation and personal experience. Gregory traveled extensively during his lifetime. His artistic muse sprang from the people he met and the places he saw; his geography and natural surroundings were important to him. As such, his work is often distinguishable by the geographic area represented, even in abstraction. One can observe distinct periods in Gregory's painting as well as bold variations in subject and style based on the geographic locations where he worked actively, as can be seen in paintings completed in Paris, France; Ibiza, Spain; New York; Florida; Eastport, Maine; and Mexico.
Bruce Gregory Created 2 Murals in 1954
In Consultation With Eleanor Roosevelt
for PS34 Manhattan, NYC, New York
Early in his career, after World War II, and thanks to the G.I. Bill, Gregory lived and studied in Paris. The experience of painting with his teacher, noted French cubist painter, Fernand Léger (1881-1955), was engrained in him during this period. Léger was both a creative inspiration as well as an example, teaching him through the rigors and daily interaction of the competitive studio environment. Upon Gregory's return to the United States, Léger chose him to collaborate on two murals he was commissioned to design for the United Nations General Assembly. It was a fruitful collaboration and, clearly, the influence of Léger as both his mentor and teacher would continue to inform Gregory's work in the years that followed. In the United States, Gregory was an active member of the New York artists' community and spent summers at the arts colony in Woodstock, NY in upstate New York, where he was a summer resident for many years during the late 1930s through the 1960s. In Woodstock, he studied, painted and became friends with many other artists including Andrée Ruellan, John W. Taylor, Arnold Blanch, Doris Lee, Philip Guston, Albert Heckman, Dan Gottschalk, Julio De Diego, Lucile Blanch, Eduardo Chavez, Marion Greenwood, Yasuo Kuniyoshi, Agnes Hart, Sidney Laufman, Fletcher Martin, Anton Refregier, Harvey Fite, Robert Plate, and others.

Gregory eventually settled in Sarasota, Florida, first as a winter resident starting in 1961, and where he was an instructor at the Ringling School of Art & Design (now Ringling College of Art & Design) for many years. Summers through the 1960s and 1970s would typically find Gregory with his wife, Millie, and their children in Woodstock, NY or in Eastport, ME, where Gregory also had a summer home, and traveling.
After retiring from Ringling in 1984, Gregory continued to live in Florida, where he devoted himself to his artwork and was a well-recognized artist for the remainder of his life. He exhibited regularly and was widely known for his painting and papermaking.

Gregory's work has been exhibited at the Butler Institute of American Art, Youngstown, OH; Society of the Four Arts, Palm Beach, FL; Museum of Modern Art (MoMA), New York, NY; Pennsylvania Academy of the Fine Arts, Philadelphia, PA; Foster Harmon Galleries of American Art, Naples & Sarasota, FL; Woodstock Artists Association and Museum, Woodstock, NY; Museum of Contemporary Art, Jacksonville, FL; Munson-Williams-Proctor Institute, Utica, NY; Associated American Artists (ACA), New York, NY; Albin Polasek Museum, Winter Park, FL; High Museum of Art, Atlanta, GA; Rollins Museum of Art, Winter Park, FL, and many others. Gregory's work is also included in the permanent collections of the Woodstock Artists Association & Museum in Woodstock, NY and the Huntington Art Museum in San Marino, California.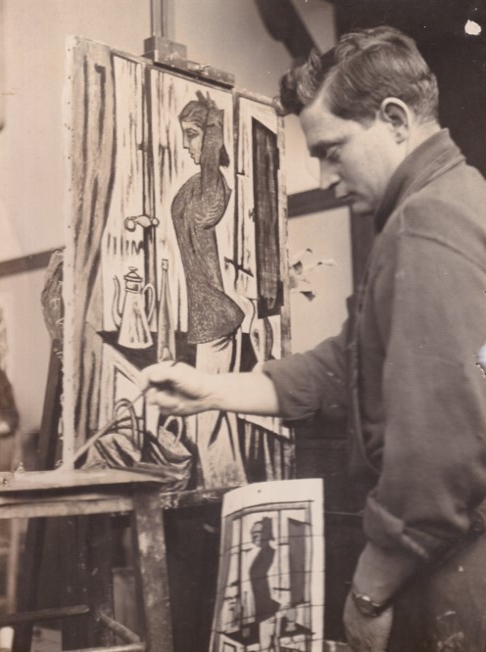 1949 - Painting In Paris